History

Lake Tahoe is best known for boating, skiing and rough water sailing. With a surface temperature of 41 to 64 degrees, brief shoreline dips and wetsuit clad skiers are the norm. The Lake is 22 miles long, 12 miles wide and boasts the second greatest depth (1685') in the United States. This icy cold water circulates to the surface when the Lake gets choppy in the afternoon. The Lake elevation of 6225' adds another challenge to visiting athletes. Only four people are known to have successfully crossed the length of Lake Tahoe.
Ken began competitive swimming at age nine when he joined the Indian Valley Swim Team in Walnut Creek. It took most of that summer in 1969 to win his first third place ribbon in the 50 yard breastroke. In addition to competitive swimming, he learned to play Water Polo at Las Lomas High School and became an All-American in 1977 & 1978. He continued his Water Polo at University of the Pacific earning an athletic scholarship. After college he began to swim again and entered his first two mile open water swim race in 1987 at Lake Berryessa.
Click here for a chronological history of Ken's swims.
Only sixteen people are known to have successfully crossed Lake Tahoe.


Ken Met his Tahoe Challenge! To Swim the 22 mile length of Lake Tahoe without a wetsuit...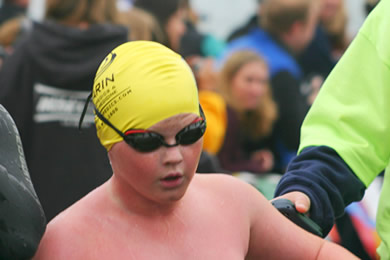 Ben Harmon - Alcatraz Swim Oct. 15 2006 - 46:10

When? Get on board now! Ken's historic Tahoe Crossing took place Monday, August 22, 2005.

Where? Lake Tahoe is nestled in the Sierras between California and Nevada at an elevation of 6225'. With a surface temp of 41-64 degrees and a length of 22 miles, it is no surprise that only four people are known to have successfully crossed the Lake. Click here to see the details of Ken's triumphant swim.

Why? Swimming is a healthy, multi-generation, life-long athletic outlet. Click here to learn what makes this challenge so exciting! Check our UPDATES for monthly news flashes on the Event, Training, and Support Team.
The swim course was finalized with the help of the Coast Guard.

Starting point:
Camp Richardson (South Tahoe) 6:00 AM PST

Finishing point:
Hyatt Hotel Beach at Incline Village, NV. 4:00 to 6:00 PM PST

*Hyatt private beach opens after 1 PM.
Crew on board "Mother Ship":

Marcia Harmon, event director and kayaker
Dr. Mike Ennis, physician and swim pacer from 2003 width swim
Craig Klass, two-time Olympian Water Polo and swim pacer
Dr. Mike Kibble, kayaker and boat captain from the three width of Tahoe swims
Robert Sibilia, communications director and support crew
Brian Creasy, GPS engineer and support crew
Peter Bessette, Co-Captain and boat coordinator
Carla Pierson, Co-Captain and support crew
Rob Bonham, Captain, for second boat
Sean Herrero, Professional photographer and video documentation